The exhibition of creative works of students opened at Yanka Kupala State University on the occasion of the university's birthday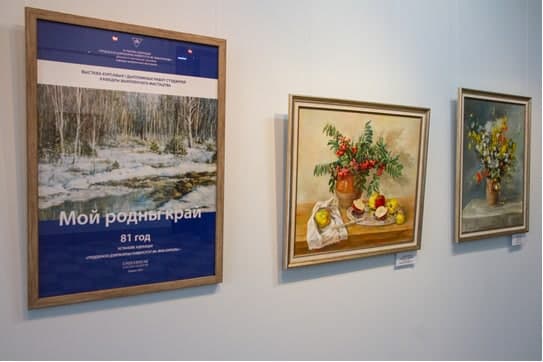 The exhibition presents course and diploma works of students of the Department of Fine Arts, made in the technique of easel painting.
The exposition of the gallery "UNIVERSUM" is updated annually on the occasion of the birthday of Kupala University. This year's exhibition, called "My Native Land", combines works made in the genres of landscape and still life, which reflect the identity of the material culture of Belarus.
Rector Iryna Kiturka took part in the opening of the exhibition. She congratulated the staff, teachers and students of Yanka Kupala State University on the holiday and noted that the enthusiasm and fascination that reign today in the walls of her native Alma mater is a wonderful "Kupala emotion" that you want to share with each other.
– The high level of students' creative works, which are presented in the new exhibition of the gallery "UNIVERSUM", is impressive, - said Iryna Kiturka. – First of all, I want to thank the teachers, because the fact that their students have reached such a level of skill, of course, is their great merit. And, of course, looking at these works, it is impossible not to feel the worldview and spiritual mood of each of the young authors. I am very pleased that the Faculty of Art and Design of Kupala University produces such strong artists.
Iryna Kiturka wished the students inspiration, new professional achievements, as well as numerous solo exhibitions in the near future. In addition, the rector expressed the hope that young authors will not forget the way to their native university after graduation.
Nadezhda Romanchuk, a master's student of the Faculty of Art and Design, also congratulated her Alma mater on her birthday, and her work was also included in the exhibition "My Native Land". On behalf of all the authors, she thanked the teachers for their talent, knowledge and skills, which they generously share with their students, and expressed confidence that next year the updated exhibition of the gallery will feature no less interesting, and perhaps even stronger works by young artists who are studying at Kupala University.
The opening of the exhibition in the UNIVERSUM gallery was the first of a series of festive events dedicated to the 81st Birthday of Yanka Kupala State University of Grodno. Throughout the holiday week, many interesting events are planned at Kupala University.