A delegation of St. Petersburg University visited Yanka Kupala State University of Grodno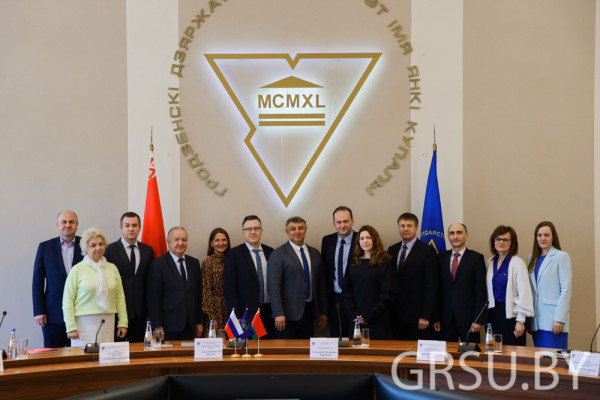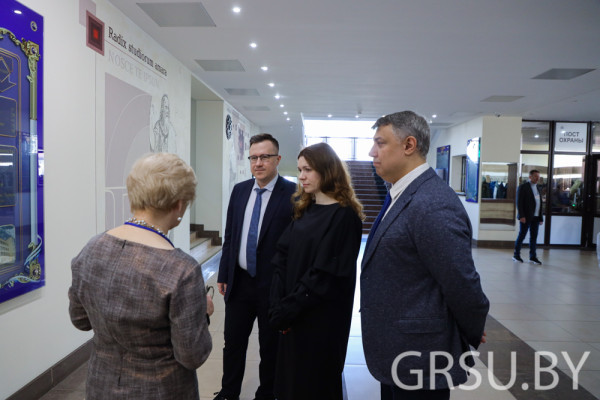 Foreign colleagues visited Yanka Kupala State University of Grodno in order to get acquainted with the university and establish partnership in various areas
The delegation of St. Petersburg University included Vice-Rector for Digital Transformation and Information Security Vladimir Starostenko, Head of the Digital Transformation Project Office, Director of the Center of E-Learning Development Anastasiia Kovalchuk and Head of the Department of Theory and History of State and Law, Director of the Center for the Study of Information Security and Digital Transformation Professor Vladislav Arkhipov.
The delegation met with Iryna Kiturka, Rector of Yanka Kupala State University of Grodno, in an informal setting. The parties discussed possible vectors of cooperation and shared their experience in the field of digital education. Representatives of the foreign delegation expressed hope that Iryna Kiturka would visit St. Petersburg University during the celebration of its 300th anniversary.
The official part of the visit began with a welcoming speech of the First Vice-Rector of Yanka Kupala State University of Grodno Aliaksandr Kareusky. Vice-Rector for Academic Affairs Leontij Pavlov, Vice-Rector for Security and Human Resources Alexey Bezzubik, Dean of the Faculty of Mathematics and Informatics Alena Livak, Dean of the Physico-Technical Faculty Henadzi Hachko also took part in the meeting. The head of the educational and methodological department Marina Kolotsey has presented a detailed overview of our university's educational opportunities.
In turn, foreign colleagues introduced the Belarusian side to the educational opportunities of
St. Petersburg University. Implementation of online courses and programs with the possibility of their placement on international online platforms and joint research activities in the field of digital transformation and information security were discussed.
By the way, Kupala University has a long history of cooperation with St. Petersburg University, which traces back to 2010, when the Agreement between our university and the Faculty of Applied Mathematics and Control Processes of St. Petersburg State University was signed.
A new round in partnership took place on March 2, 2023, when the Agreement of International Cooperation between the two universities was solemnly signed during the XV Congress of the Eurasian Association of Universities.
St. Petersburg State University actively participates in the "Visiting Professor" program and scientific conferences, accepts YKSUG's representatives for internships. In February 2023, the women's volleyball team of St. Petersburg University took part in the IX International Volleyball Tournament among women's teams for the Yanka Kupala Rector's Cup.