On-line voting for Mister and Miss University-2017 started at YKSUG!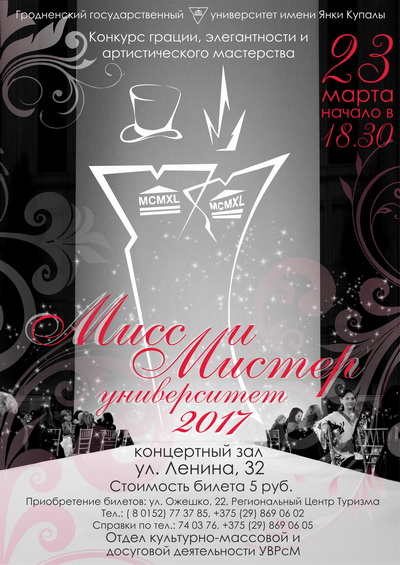 On 7th March online-voting for Mister and Miss Univerisyt-2017 was opened. Voting is only available for students and staff of YKSUG after signing in.
The festival of beauty and manliness, elegance and charisma, grace and artistry takes place on 23rd March, 2017 at the concert hall of Yanka Kupala State University of Grodno.
Show-time begins at 18.30 @ Lenina str. 32 (assembly hall).
Ticket price: 5 BYN. Tickets can be purchased atOzheshko str. 22, Regional Torism Centre, or booked by phone: 77-37-85, +375 (29) 869-06-02.
Show-runner – mass-cultural and leisure activities office of Youth Education Work Department of YKSUG.
Information telephone: 74-03-76, +375 (29) 869-06-05.