The international training workshop on the implementation of the Bologna process in the Belarusian education system was held at the Yanka Kupala State University of Grodno with the support of the experts of the European Union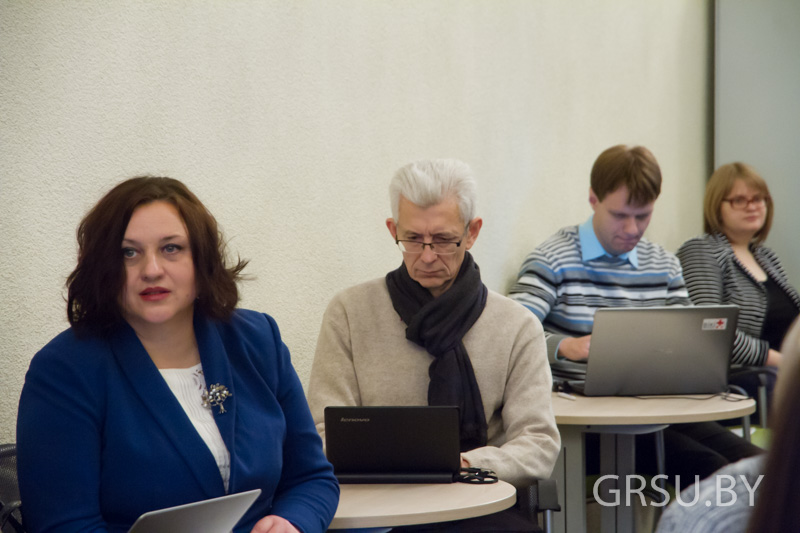 The coordinator of the FOSTERC project is a representative of the Polytechnic University of Valencia, and experts of the University of Turku, the Lithuanian University of Educology and the University of Bialystok visited the Yanka Kupala State University to discuss the implementation issues of the Bologna road map in the Republic of Belarus.
The coordinator of the project in Europe Adela Garcia Arasil shared: "As part of the FOSTERC program, we hold training workshops in Belarusian universities, where we talk about the implementation of the Bologna Process. The participants of the program in Belarus are eight universities. We have already met with representatives of the Belarusian State University, the Belarusian State Pedagogical University named after Maxim Tank, the Belarus State Economic University, the Polotsk State University, the Yanka Kupala State University, later the workshops at the Gomel State University named after Francis Skaryna; the Grodno State Agrarian University, the Brest State University named after Pushkin. Different universities participate in the project: both classical and profile ones - agricultural, economic, technical, humanitarian. At the seminars we try to find out what difficulties Belarusian universities face when they join the Bologna process and suggest possible ways of their solution".
The representatives of the project note that its goal is, first of all, to orient the Belarusian education system to a student. To this effect, it is necessary to turn to modern methods of developing educational programs based on the competence approach, which is aimed at the practical component of the content of the education, the independent work of students and the receipt of necessary professional competences. This approach in education involves creating new teaching methods and testing its effectiveness. This was told to participants – to teachers and to staff of the university by the coordinators of the project during the lecture part of the workshop.
The project coordinator added: "At the lectures we talked about the compulsory subjects and additional courses that the student can choose at will, about the methods of assessing the knowledge and competencies of the students, the quality of the evaluation. The coordinators also shared their experience in drawing up curricula and how to change the teaching load over credits. Many questions were focused on the correlation of classroom activities and individual consultations".
During the practical part of the training workshop groups of participants developed a pilot version of the curriculum, defined and formed methods for evaluating students. Then they presented their projects and worked out together with the guests the principles for implementation of the Bologna process into the educational process of the Grodno University.