President of the Republic of Belarus Alexander Lukashenko visited Yanka Kupala State University of Grodno on a working visit to Grodno Oblast.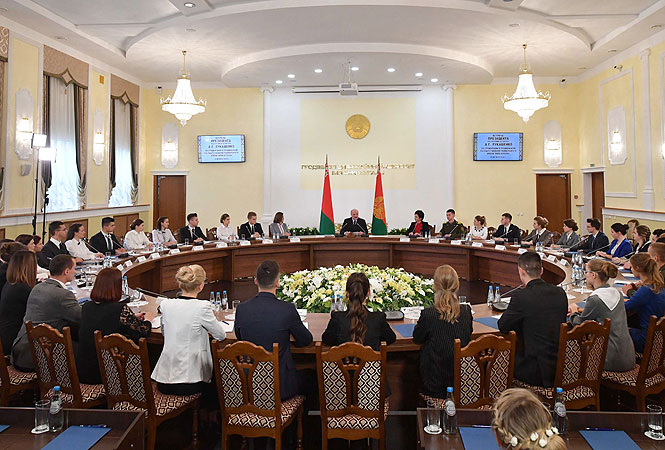 During his visit to Yanka Kupala State University of Grodno, which took place on October 19, Alexander Lukashenko got acquainted with the achievements and prospects of the university and spoke with students of Yanka Kupala State University of Grodno, Grodno State Medical University and Grodno State Agrarian University.
The President was informed that in recent years at the university the number of teachers with academic degrees and titles has increased significantly; the university is actively engaged in extrabudgetary activities, attracting funds for its development.
Alexander Lukashenko was told about the research and development of students, about the work of the student media center, which includes television and radio studios, the office of the periodical press and photography.
The President was shown the development of the Tehnolab educational digital laboratory and the Practical Electronics student design bureau. The educational digital laboratory includes digital sensors and devices that are already used in physics classes in many Belarusian schools. Domestic devices are more compact and cheaper than foreign counterparts, while being comparable with them in quality. In addition, the equipment has significant export potential and is already being shipped abroad. Automated spectral equipment for scientific research was also presented.
Alexander Lukashenko got acquainted with the project "Virtual Grodno Oblast". It includes a website to accompany the visa-free zone. Students create not only virtual sightseeing tours, but also three-dimensional 3D models of lost architectural specimens.
The University's educational network, an educational portal, was also presented to the head of state. Students can get access to educational materials, find current information about the activities of the university, and even chat with teachers there.
The University's educational network, an educational portal, was also presented to the Head of State.
While speaking with students of Grodno universities, the President noted: "The education system should encourage initiative, train specialists of a new formation with well-developed entrepreneurial skills. This is a requirement of the modern world. Often we suffer precisely because we are not able to profitably represent the interests and capabilities of our country abroad. "
He stated that the Grodno universities are the intellectual center not only of the region, but also in certain areas – of the whole country. "In this regard, it is necessary that the training conditions be as close as possible to the real conditions of future activities," the head of state emphasized.
In Belarus, the University 3.0 model is actively used, and Yanka Kupala State University of Grodno works on it. "The result of this program is your presentation today. Of course, in the areas that were presented, it is impressive," said Alexander Lukashenko.
He also noted that Belarusian universities need to work on the development of educational and laboratory facilities, the construction of new dormitories to attract foreign students and export educational services.
The president took a photo with teachers and students afterwards.