Maximilian Dener, lecturer of the German academic exchange service, doctor of Philosophy, visited Yanka Kupala State University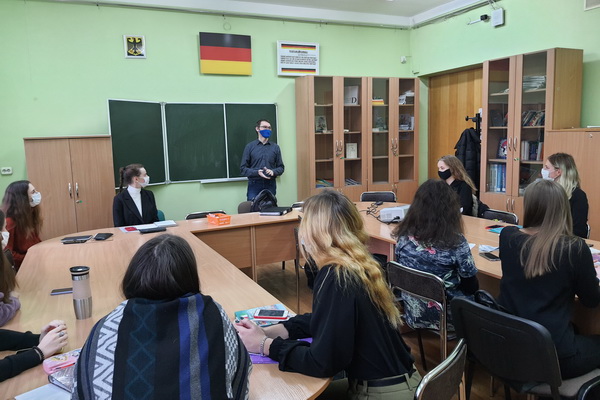 As part of the educational visit of "Visiting Professor" program, the guest of honor met with students and teachers of the Department of Romano-Germanic Philology.
As part of the admission program, on November 23, Maximilian Dener gave a lecture on "Modern ways of translating specific syntactic constructions of the German language into Russian" and conducted a practical lesson on "Linguistic and Cultural translation units in intercultural communication" for students of the Faculty of Philology. The guest of honor spoke about the opportunities for training and academic exchanges of students, undergraduates and postgraduates in educational institutions in Germany, academic exchanges of employees and teachers, as well as research on the basis of educational institutions in Germany.
Students of the specialty "Romano-Germanic Philology" also participated in language testing to determine the level of foreign language proficiency.
At the end of the meeting, Maximilian Dener noted that he would like to visit Kupala University again next year for a joint Republican event.