Iryna Kiturka, rector of Yanka Kupala State University of Grodno, discussed the proposals for the development of the University's Strategy with students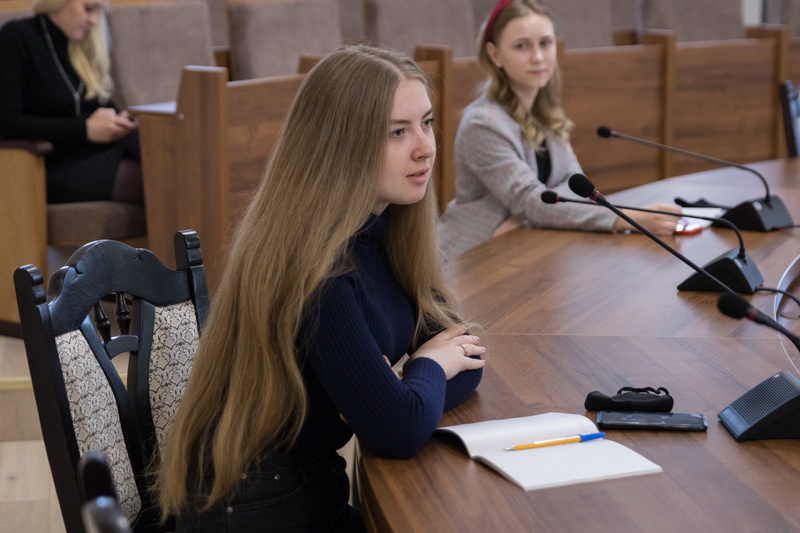 Representatives of eight Faculties told the rector about their vision for the development of Yanka Kupala State University of Grodno.
The proposal to participate in the developing of the University's strategy for 2021-2025 was proposed by Iryna Kiturka during a series of autumn meetings with students at the Faculties. During two previous weeks, students developed and discussed constructive proposals in their teams.
– I am convinced that a good result can be achieved when we join our forces. Therefore, for the first time we decided to involve in this process not only the teaching staff, but also students. You have different ways of thinking and, perhaps, a bit different views of what the University of the future should be, – Iryna Kiturka noted at the beginning of the meeting.
The proposals voiced by students concerned improving the quality of the educational process and increasing students ' awareness of the main events in the life of the University. As it turned out, students are still concerned about the strengthening of the training component in education, as well as the activation of contacts with foreign scientists. Iryna Kiturka noted that the organization of meetings with visiting professors will be reviewed taking into account the epidemiological situation. Meetings will be resumed in the near future, but now they can be organized only in online format.
Students expressed interest in including additional subjects beyond their curriculum. This would help to determine the choice of an academic course of the second higher education. Questions about the involvement of students in scientific activities, about providing University classrooms and laboratories with modern equipment were also discussed during the meeting. In addition, the participants of the meeting proposed new approaches to the organization of student self-government, talked about how to facilitate the adaptation of freshmen to their new student life.
– We have already made a big step forward, –the rector said and thanked students for their suggestions. – All your ideas are important; they deserve attention and further discussion. I want you to know that we hear you and support you in everything. The future of the University depends on all of us, on our common interest in achieving the best results.
Iryna Kiturka reminded that she expects to see all the proposals voiced by students in written form by October 25 so that the University management and teaching staff can continue with the developing of University's Strategy for the next five years. In the near future, the rector of Yanka Kupala State University of Grodno will meet students from six other Faculties.