First interdisciplinary diploma project defended at YKSUG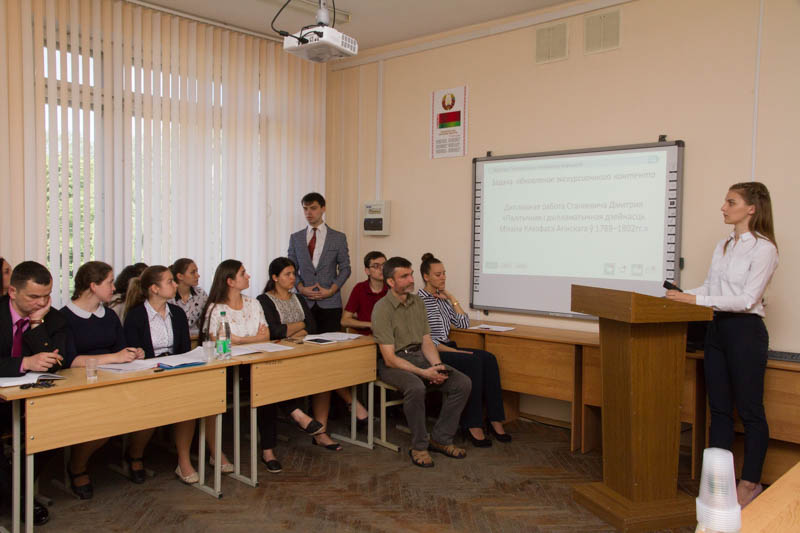 Students of different specialties of the Faculty of history, communications and tourism under the guidance of Valentina Morozova, professor of History of Belarus , archaeology and special historic disciplines department, and Irina Gerasimchik, associate professor of department of journalism, designed a unique project "Music of Centuries".
The joint work of YKSUG students was evaluated by the members of state examination commission. The defense was also attended by Henadz Hachko, Vice-Rector for Academic Affairs, Aleksandr Niechukrin, Dean of the Faculty, staff members of Academic Affairs Department and other guests.
Authors and creators of the projects are students of the "History (World and National History)" specialty: Dmitry Stankevich, Nikita Karankevich, Anna Shulskaya and student of the "Information and Communication" specialty Darya Gavrilchuk. The main idea of the project is to organize tourist trip through Belarus in youth-friendly 2.0 format. That means introduction of remarkable pieces of historical and cultural heritage through cultural education and interactive part. The project is aimed on school students who are to pass exams or tests on history of Belarus, as well, as on freshmen students, who are keen on history of motherland.
Smorgon region is going to be an implementation venue for the project, because a lot of historical memorials are concentrated in the area: Krevo Caslte, St. Michael's Chursch in Smorgon, museum in manor of Michal Kleofas Oginsky in Zalesye and museum in manor of Francisk Bogushewich in Kushliany. Moreover, those objects belong to different historical periods, but they are linked in one route by the idea of history reception, consistency of development of intellectual and spiritual potential of our ancestors, which in sum allows conducting a tour through space and time.
The students themselves developed touristic route, prepared leaflets and other information materials. Every checkpoint on the route is not an excursion, but also quests, games and fun activities to entertain introduction into history.
Project is interdisciplinary because it involves students of different specialties: Sociology, Tourism and Hospitality, Linguistic Support of Intercultural Communications.
Graduates proposed their project to various touristic companies, including Regional Tourism Center of YKSUG. Dean of the Faculty proposed students to enter Master's studies and continue work on their project with help of the faculty and university.
This project won the 1st place at the University Contest of Youth Ideas