The command of the military faculty of the Yanka Kupala State University became the winner of the championship of military faculties in military-applied all-around and all-around military-sports complex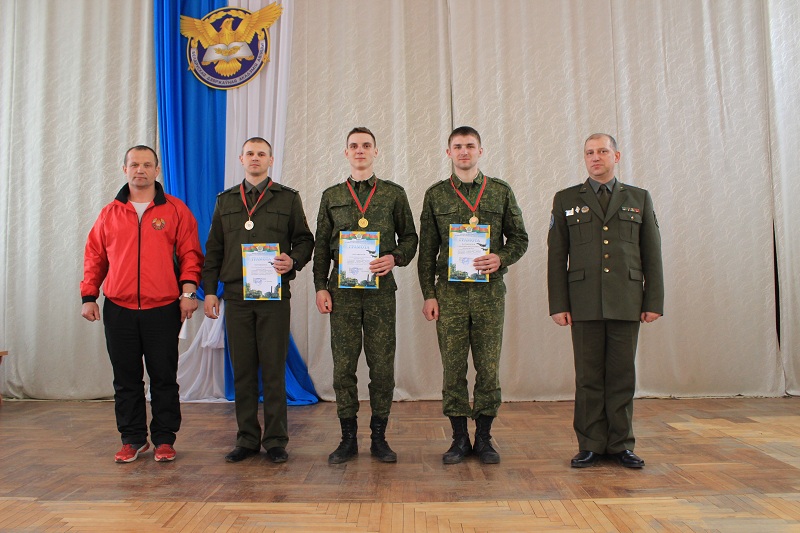 Our students won the second place in the republican competitions.
The championship of military faculties of civil higher educational institutions for military-applied all-around fighting was held at the sports base of the Belarusian State Academy of Aviation within the framework of the 12th military sports festival.
These competitions united teams of seven military faculties of the leading higher educational institutions of the Republic of Belarus. Among them are representatives of the military faculty of the Yanka Kupala Grodno State University.
Within two days, the top 50 sportsmen competed for the right to become the strongest. The race for prize-winning places was in three age categories: among military men under 30, over 30 years and over 40 years. Participants had to run 100 m, 1 or 3 km, to get over obstacle course, to throw a grenade with maximum accuracy and do as many pull-ups on the crossbar as possible.
In the category of servicemen up to the age of 30, the third place was taken by the teacher of the Department of Theory and Organization of Physical Training and Sports of the Servicemen – Captain Pavel Kirmel, head of Physical Training. Among the military men over 30 years, skipper Dmitry Karpuk also entered to the top three of the winners of the battalion of cadets of the military faculty of the Yanla Kupala University.
As Victor Golub, the main referee of the competitions, said, competition is increasing with the growing prestige of competitions in military-applied all-round fighting. Military personnel of military faculties who were not

included in the main teams but wished to compete in the individual championship, could take part in the championship.