Head of Mission of Wold Bank in the Republic of Belarus Alexander Kremer visited Yanka Kupala State University of Grodno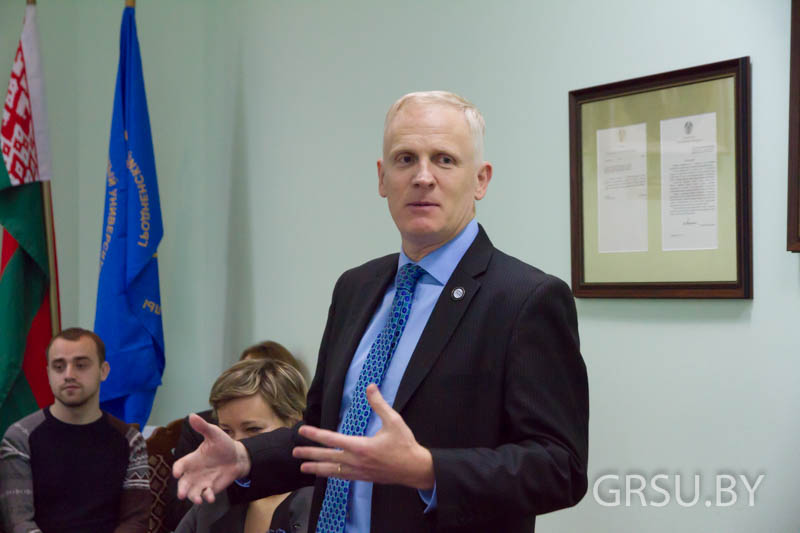 Alexander Kremer met with the administration and students of the Yanka Kupala State University of Grodno.
Alexander Kremer is currently leading the world Bank in the Republic of Belarus in June 2017 he was appointed Head of the government of the Bank.Prior to that, he worked as Permanent representative of the world Bank in the Kyrgyz Republic and Turkmenistan, and Moldova. Communicating with students, he noted that Belarus is a unique country in the former Soviet Union.
– I really like Belarus and I am happy to be here. The more that I think the roots of my ancestors located in Brest. From this awareness has been in Belarus I'm doubly pleased,– said Alexander Kremer.
At the meeting the students presented the history of the development of the world Bank. As we know, the organization was created in 1944 to help countries to restoring the economy, after the Second world war. Currently 189 countries are shareholders of the world Bank and Belarus one of them, which became a member of the world Bank Group in 1992.In addition, Alexander Kremer told the students about the prospects of Bank's development for the next five years and the framework partnership strategy for 2018-2020. He noted that the document includes measures that will contribute to the growth of the Belarusian economy.
At the end of the meeting students had the opportunity to ask a questions Alexander Kremer. Students particularly interested in the activities of the world Bank in the sphere of education.
– Currently, all the projects being implemented by the Bank in the sphere of education, aimed at joining of Belarus to the Bologna process and the adaptation of the system of the Belarusian education in it. Special attention is paid to the improvement of master's programs and investments in the modernization of material-technical base of universities, – said Alexander Kremer.
The students were asked about the employment opportunities in the World Bank. As told to guest, all that is required is excellent knowledge of English, and willingness to work hard, learn and improve will enable students to achieve success in your career.
Note, the World Bank is an international financial institution focused on providing financial and technical assistance to developing countries. Unlike other financial institutions, the organization does not seek to make a profit.
In accordance with the Millennium Declaration, the world Bank has focused its activities on the eradication of poverty and hunger, achieving universal primary education, promote gender equality, empowerment of women, reducing child mortality, improving maternal health, combating HIV/AIDS, malaria and other diseases, ensuring sustainable development of the environment and develop a global partnership for development.
Through the International Bank for Reconstruction and Development (IBRD) and International development Association (IDA), the world Bank provides countries with loans in two basic types: investment loans and loans for development.