Student of the Yanka Kupala State University of Grodno, Alexandra Radkovich the winner of the regional stage of the Republican contest "Student of 2017"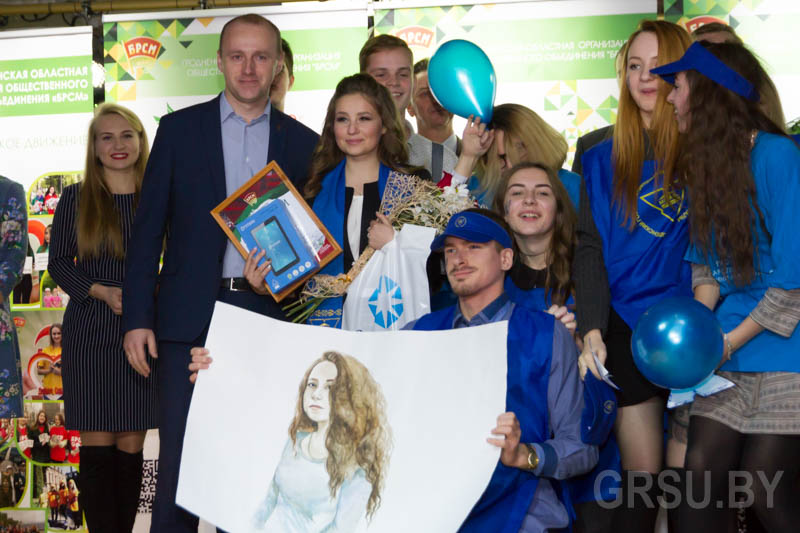 Alexandra will present the Grodno region in the final of the Republican contest "Student of 2017", which will be held in December in Minsk.
Alexandra's rivals on the regional stage was student of Grodno State Agrarian University Evgenia Bobnis and student of Grodno state Medical University Vladislav Shishko.In the framework of the correspondence round, the contestants presented to jugde a portfolio and a funny video about student life. In the final, which was held today, November 16, at the Youth Center of "Grodno", the guys competed in three competitions.
During the first competition of self-presentation "I am a student" the participants were talking about themselves, their achievements and plans.
The second competition – intellectual – was dedicated to the 500th anniversary of Belarusian book printing. Here, students demonstrated their oratory skills and eloquence. Alexandra Radkovich compared knowledge-with the sea, wide open spaces were people like sailboats, roams throughout their life .And the first Belarusian who went to conquer the "sea" of printing was Francisk Skorina.
Completed the final challenge with creative competition "Belarus – the land of inspiration" in which contestants recited poems and prose works of his own composition, sang and danced.Upon the Jugde's decision, the title of "Student of 2017" was awarded student of the philological faculty of Yanka Kupala State University of Grodno Alexandra Radkovich.As noted by the jury, the Alexandra captivated everyone with her sincerity, and competitive performances in her native Belarusian language made to penetrate to our student sincere sympathy.