VI Berkovsky readings "Book culture in the context of international contacts" were held at Yanka Kupala State University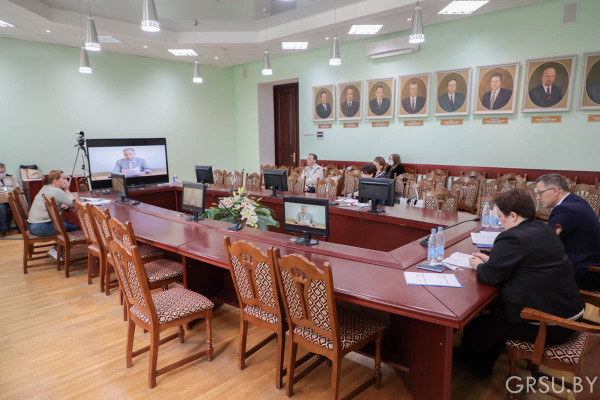 The international scientific forum, which was held jointly by the Academy of Sciences of Belarus and the Academy of Sciences of the Russian Federation, brought together over 150 participants - bibliologists, historians, philologists and sociologists.
On the first day, at the opening of the VI Berkovsky Readings, a greeting to the forum participants was read by Chairman of the Presidium of the National Academy of Sciences of Belarus, Head of the International Association of Academies of Sciences Vladimir Gusakov, as well as President of the Russian Academy of Sciences Alexander Sergeev. Then the rector of Yanka Kupala State University Irina Kiturko addressed the scientists who had gathered within the walls of Kupala University and also joined the online conference with a welcoming speech.
- It is a great pride to receive the participants of such a high scientific forum within the walls of our university, - said Irina Kiturko. - It is difficult to overestimate the importance of books and book culture in the fate of every nation. And, of course, the topic "Book culture in the context of international contacts" is especially relevant today. I wish all forum participants to enjoy communicating with other scientists, representatives of different countries, as well as fruitful work and success in your further research activities!
The VI Berkovsky Readings began with a plenary session, after which the participants began to work in sections. For two days, scientists discussed the symbiosis of book and electronic cultures, the socio-cultural aspect of reading in modern society and historical retrospective, as well as current trends in library, museum and archival activities.
Nikolai Grinko, director of the Yanka Kupala Yanka State University Scientific Library, said that the Berkovsky Readings are a brand conference for Belarus, which is held annually in different cities of our republic.
- The book gives knowledge, thanks to the book a person has the opportunity to develop, improve and become a real professional in his field, - said Nikolai Grinko. - The thematic field of the conference, as always, is quite wide. I would especially like to emphasize that within the framework of the VI Berkovsky Readings, which are held in the youth capital of Belarus - in Grodno, there is a section "Book culture in youth research".
The international scientific conference, founded in honor of Pavel Naumovich Berkov, a Soviet literary critic, bibliographer, bibliologist and literary historian, is held under the auspices of the International Association of Academies of Sciences. Scientists and leading specialists from academies of sciences, institutions of higher education, museums, archives, libraries of Belarus, Russia, Lithuania, Ukraine, France, Czech Republic, China took part in the forum in Grodno.