Student of the Faculty of Pre-University Training of Kupala University is the Winner of the I International Olympiad in Russian as a Foreign Language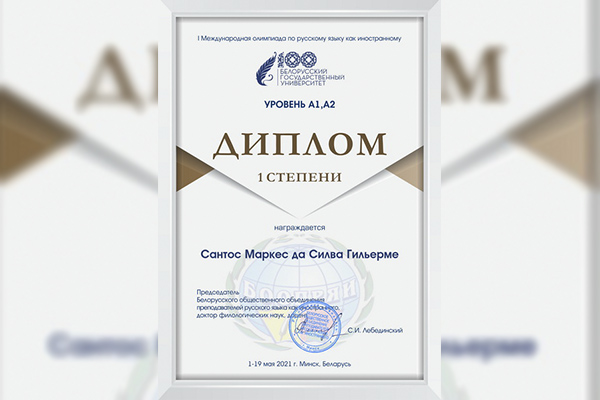 Guilherme Santos Marquez da Silva represented Kupala University at the International Olympiad in Minsk.
175 foreign students from 34 countries took part in the I International Olympiad in Russian as a Foreign Language: students of preparatory departments, students, undergraduates, postgraduates studying Russian as a foreign language. These are representatives of Azerbaijan, Armenia, Brazil, Vietnam, Germany, Georgia, Congo, Egypt, India, Jordan, Iran, Kazakhstan, Cameroon, Cyprus, China, Cote d'Ivoire, Lebanon, Maldives, Mongolia, Pakistan, Palestine, Poland, Korea, Moldova, Tajikistan, Tanzania, Ecuador. Until this year, the intellectual competition was held at the republican level among foreigners only from Belarusian higher educational institutions. The translation of the Olympiad into the online format made it possible to expand the geography of the participants and give the Olympiad an international status.
The participants had to go through two qualifying stages and the final. All competition tasks were united by the theme "Russian language - the way to mutual understanding and harmony". At the first stage, the contestants prepared a monologue-presentation on the themes "I and the Russian language" and "I and Belarus". The second round included an online test on vocabulary, grammar of the Russian language and creative work. In the final competition, the students presented to the jury an oral spontaneous presentation on the proposed topic.
The winner of the I International Olympiad in Russian as a Foreign Language was the representative of the Yanka Kupala State University of Grodno - student of the pre-university training faculty Guilherme Santos Marquez da Silva. The head of the department of language training of Belarusian and foreign citizens of the faculty of pre-university training Inna Samoilova prepared the contestant for the Olympiad.