The modern access control system has been installed in the main building of Yanka Kupala State University of Grodno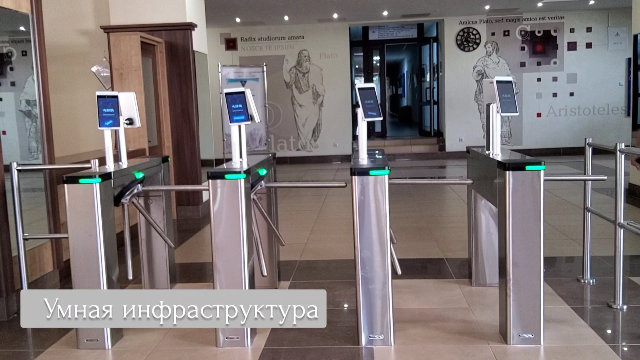 The project, aimed at ensuring the safety of employees and students, is being implemented as part of the University's Advanced Development Strategy

The access control system installed in the main building of Yanka Kupala State University of Grodno provides for the use of the face recognition function, which means that employees will be able to get to their place of work without any problems even in the absence of a special pass. In addition, you can also enter the building using a smartphone, on which you need to install a special application.
– The project also provides that the system is integrated with fire protection, that is, in the event of a fire alarm, the turnstiles are automatically unlocked and the emergency exit doors are opened from the building, - said Sergey Shmurey, head of the Security Center of the Yanka Kupala State University of Grodno.
– A plan has been developed for the modernization of other academic buildings of the university, in which new engineering and technical equipment and modern video surveillance facilities will be installed. Next year, it is planned to equip the building in Dovatora Street.
This work is carried out within the framework of the University's Advanced Development Strategy and is aimed at creating a so-called "smart" infrastructure. It is important to note that the introduction of digital technologies makes it possible to ensure the safety of employees and students of the university at higher level, as well as to eliminate the human factor and increase the effectiveness of preventive measures.