Yanka Kupala State University of Grodno held the first classes within the framework of the teacher qualification improvement courses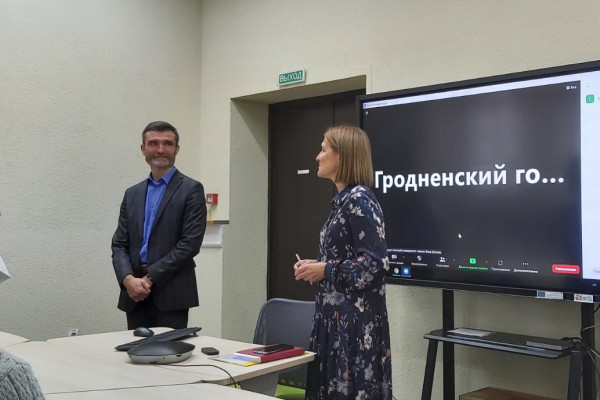 The innovative program of the courses "Improvement of the quality of teaching and learning" was developed by the consortium of the international project UNITELE, full members of which are representatives of Yanka Kupala University.
The first classes of the course were held in the full-time distance format. In the welcome address to the students of the course the Head of Educational and Methodological Department of Yanka Kupala State University of Grodno Marina Kolotsev emphasized that the professional culture of quality should be actively formed on a personal level, the skills of critical analysis of the work done, the skills of reflexive behavior and understanding of the need for constant self-development and creative search for new forms of educational activity should be developed.
The Belarusian coordinator of the UNITELE project, the chief specialist on international projects and programs of the Polotsk State University Sergey Peshkun presented the essence of the project, the key points of the course program and the procedure of its implementation to the students.
- Rapid development of the society and economy requires rigorous and effective qualitative changes in the university environment - optimization of teachers' professional activities, effectiveness of educational programs and productive atmosphere of co-operation between teachers and students, - said Sergey Vasilevich. - We have to analyze, discuss, experiment, approbate and evaluate the tools that ensure the quality of teaching and come closer to understanding the 'ideal' quality of teaching.
Then Oleg Kolyago, head of the Laboratory for Educational Innovation, told the audience about the course platform, the rules of study of academic modules, the mechanisms of interim and final assessment.
The courses are moderated by Kupala University professors - experts and developers of training materials for the UNITELE project. Classes will be held weekly from September to December 2021. As a result, the trainees will develop skills in the effective use of tools to support and develop a culture of quality, learn innovative methods and technologies of teaching, learn how to organize teamwork, ways to improve leadership skills and social responsibility, learn to create a modern curriculum for the discipline and design an educational course.