Students of Yanka Kupala State University of Grodno took part in Chinese language courses of Jilin Normal University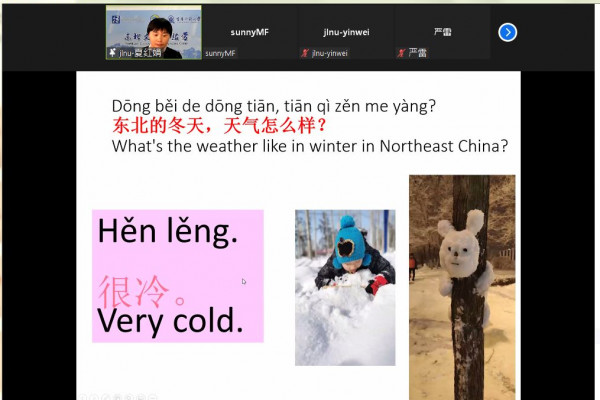 The series of classes was launched on the initiative of Jilin Normal University as a sign of gratitude for the comprehensive cooperation and support from Yanka Kupala State University of Grodno. Classes were held online.
The courses consisted of two parts. In the first one, the students took a comprehensive language course. Within its framework, the topics "All about China", "Digital and Zodiac Culture", "Famous cultural cities", "Confucius", "Food Culture", "Festival customs and Culture" were discussed.
The second part was dedicated to Chinese culture. Training on cooking Chinese food was held within its framework. The lecturers talked about traditional dishes. A cultural excursion was also held and the students of Yanka Kupala State University of Grodno learned more about the art of China, calligraphy, paper clipping, national musical instruments, Chinese knots and much more.
In total, 12 participants took part in the courses; among them were 3 teachers and 9 students. They were very satisfied with the training program and especially with the fact that they had the opportunity to communicate with native speakers.
Cooperation with Jilin Normal University began in 2013. During this time, many joint projects have been implemented.
The design and implementation of joint educational programs in the specialties "Fine Arts", "Musical Art", "Russian Philology", the training of Chinese students at the graduate school of Yanka Kupala State University of Grodno, the creation of a joint Center for Russian Language and Belarusian Culture on the basis of the Jilin Normal University are promising for both universities.