"Novruz Bayram" festival was held for the fifth time in Yanka Kupala State University of Grodno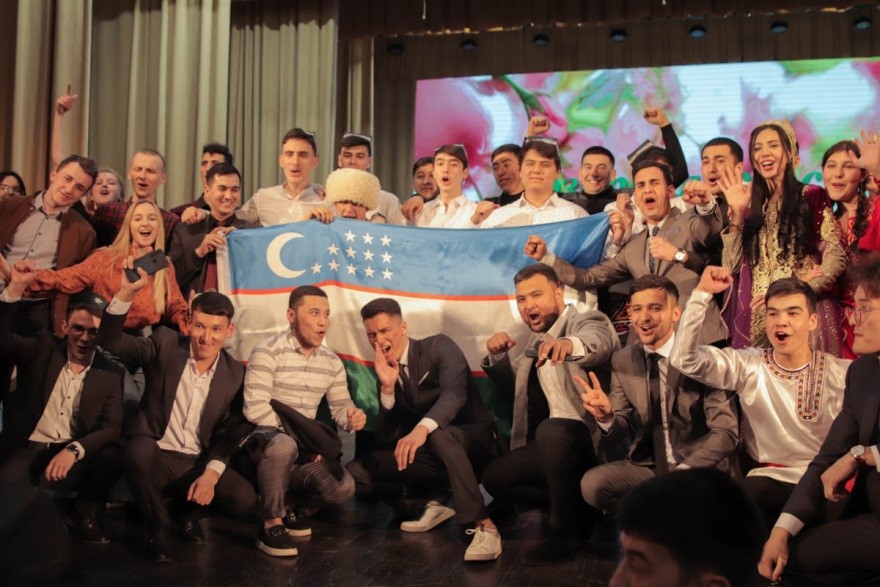 The holiday, symbolizing spring and new life among the Eastern peoples, was celebrated at the university on March 24-25.
This year Novruz Bayram united the students of the Yanka Kupala State University of Grodno for the fifth time. The indoor football tournament, a fair-exhibition "Rainbow of Art", an amateur concert and an essay contest were held during the holiday.
The first Secretary of the Embassy of the Republic of Uzbekistan in the Republic of Belarus Azimjon Abdullayev and Consul of the Embassy of the Republic of Uzbekistan Hadjiakbar Vakhabov became the honored guests of the festival. They were given a tour of the university and organized a visit to the dormitories of the Yanka Kupala State University, so that representatives of the embassy could get acquainted with the daily life of students and university staff.
The participants and guests of the holiday were greeted by the Rector of the University Irina Kiturko.
- We try to make sure you feel at home in our country, even a thousand kilometers from your real one.
Irina Fedorovna thanked the students for supporting their national traditions and presented a cake to the participants of the festival.
Azimjon Abdullayev and Hadjiakbar Vakhabov addressed the organizers and guests of the holiday with a congratulatory word. They wished the students of Yanka Kupala State University family well-being, happiness and health.
As part of the anniversary celebration of Novruz Bayram, interactive platforms were organized where the guests of the event immersed themselves in the culture of other peoples. During the festival people could taste national dishes from Turkmenistan, Uzbekistan and Kazakhstan, learn Chinese and Iraqi calligraphy, appreciate the beauty of Oriental national costumes and hear authentic Chinese flute live.
Sports fans enjoyed the indoor football tournament, which ended with the victory of the team from Turkmenistan.
The festival ended with a concert, during which foreign students showed the audience their culture through creative performances. Vice-Rector for Academic Affairs Yuri Eduardovich Belykh addressed the guests and organizers of the holiday with congratulatory words.
As part of the concert, an award ceremony for the winners of the essay contest was held. The applications for participation in the contest were sent not only by Belarusians, but also representatives of countries such as Sri Lanka, Uzbekistan and Turkmenistan. In their essays the students decided to tell about their home countries and traditions connected with Novruz.
According to the results of the contest, Dinara Dzhumaniyazova was awarded a diploma of the first degree. The second and the third places were taken by Dulki Ruvanka Sirinivansa and Nyazik Nurberdieva respectively.