YANKA KUPALA STATE UNIVERSITY EXPANDS COOPERATION WITH EBERHARD KARLS UNIVERSITY OF TÜBINGEN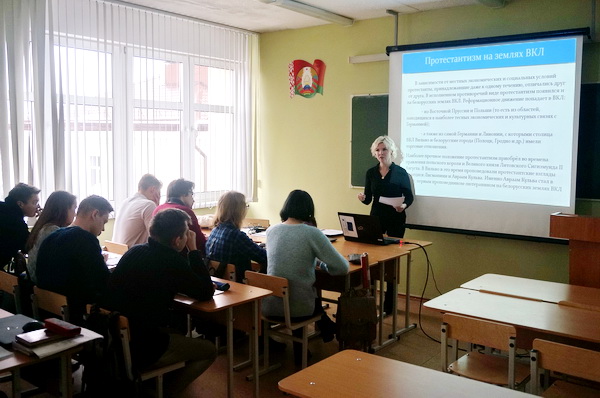 Within the framework of the Erasmus + programme, a lecturer of the Eberhard and Karl University of Tübingen Doctor of Historical Sciences, Associate Professor Olga Keller underwent an internship at Yanka Kupala State University.
Olga Keller gave lectures for the 2nd year students of the specialty "History (Belarusian and World History)" on the topics "From the history of the Reformation on the Belarusian lands of the GDL and in Württemberg: Francisk Skorina, Radzivil, Baron von Ungnad, Primus Truber" and "Transfer of German Land Rights Central, Eastern and Southeastern Europe, including the Belarusian lands of the Grand Duchy of Lithuania in the 13th-18th centuries". The lectures aroused great interest and a lively discussion about the role of German law in the formation of European state associations.
During the visit, issues and prospects of cooperation of Yanka Kupala State University of Belarus with German universities were discussed. Dr. O. Keller met with the leadership, teachers and students of the Faculty of History, Communication and Tourism. It is worth noting that Olga Keller is the coordinator of the University of Tübingen for cooperation with universities in Eastern and Southern Europe. She informed in detail about the operation of the Erasmus + programme and the participation of partners from the Republic of Belarus.
Participants actively discussed the cooperation of the faculty within this programme. It is noteworthy that in 2019 the Department of History of Belarus, Archeology and Special Historical Disciplines will take part in the implementation of the "Erasmus +" programme in the direction of cooperation between historical specialties of German and Belarusian universities.