Foreign students of the preparatory department of Kupala University joined the traditional Belarusian winter fun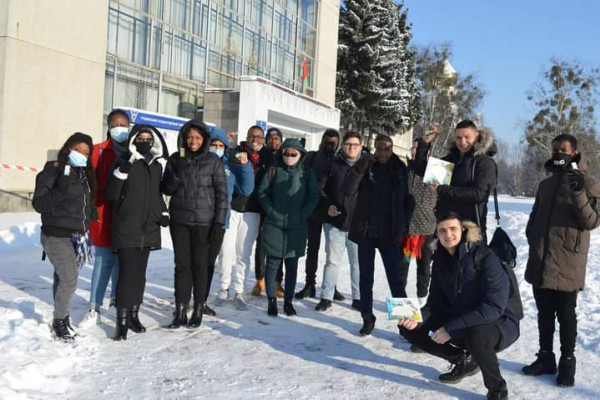 The Faculty of Pre-university training of Yanka Kupala State University organized a holiday for the World Snow Day.
An adaptation and cultural event dedicated to the Belarusian winter traditions is held annually for foreign students of the preparatory department of the Faculty of Pre-university Training of Kupala University. This time, the teachers of the Department of Language Training of Belarusian and Foreign Citizens Inna Samoilova, Lilia Shumskaya, Elena Mohan, Irina Kraskovskaya and Natalia Muzychenko invited the students to answer the questions of a thematic quiz, guess riddles, name traditional Belarusian winter holidays, and also take part in traditional winter fun in the fresh air.
Two teams -"Rainbow" and "Heroes" - competed in the quiz contest. The intellectual struggle was intense, as a result, the team "Rainbow" won with a minimum margin of 0.5 points from the opponents. After summing up the results of the quiz contest, the children took part in the traditional Slavic winter games: "Pass the Snowball", "Marksman", "Snowblows", "Frozen Sparrows". Delicious Belarusian chocolate became a sweet bonus for the participants and a reward for their activity!