Students of Yanka Kupala State University of Grodno took part in the electronic job fair for the first time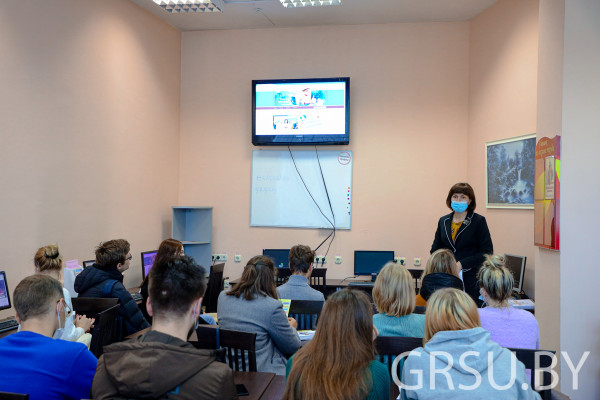 A master class on how to find a job was held for Yanka Kupala graduate students as well as they were told how to use the state database of vacancies.
The master class was attended by more than 30 students from all faculties of Yanka Kupala State University of Grodno who will soon get their first jobs. First of all, they were introduced to the portal of the State Employment Service and were shown how it looks like and how to use it. The thing is that other resources are disguised as this one and you need to know how to distinguish the real one.
Kupala students were explained how to register on the site, attach your CV, find employers. The master class was held in the framework of the national electronic job fair where students could take part in the online job search.
As Marina Kolotsey, head of the Educational and Methodological Department, noted, such experience will be useful for young people, even though graduates have a guarantee of their first job thanks to the placement.
- This master class was held on the joint initiative of the university and the Department of Labor, Employment and Social Security. Students were able to communicate with employers in online format at the electronic job fair. This allows you to get answers to all your questions about employment, talk about yourself, learn about the social package and types of incentives that are provided and much more. In addition, during a small dialogue with the employer, you can generate interest in yourself and thereby provide an advantage in the competition for the position, and the communication with the hiring manager can actually be the first interview. Thus, in one day you can meet at mini-interviews with representatives of several organizations you are interested in, - said Marina Kolotsey.
Electronic job fairs are progressive form of services offered by public service agencies to solve employment issues in real time. Such master classes for students and participation in electronic job fair will be organized further. Not only graduates, but also students of all courses who want to find a job will be able to take part. Next electronic job fairs will take place on October 26 and November 26. We invite you to participate!