The first contract on joint training of IT-specialists signed by YKSUG and Chongqing University of Technology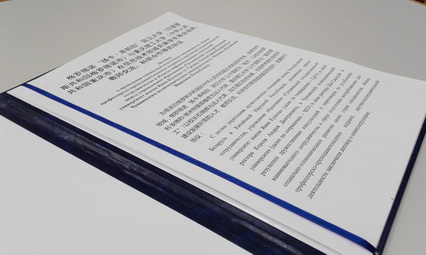 The main goal of the contract was strengthening of the friendship between Belarus and China, development of the cooperation between the universities, and training of specialists necessary for social and economic growth of both states, teaching staff exchanges and development of research activities
In particular, the universities should jointly train Bachelor and Master students, and also continue cooperation within student academic exchanges. The teaching staff of our alma mater would visit CQUT for training for the first time. Besides, the contract allows admission of students to the joint doctorate studies. After the successful completion of study program, graduates will get a higher education diploma, issued by the country where student studied the last 2 years.
As YKSUG authorities told, such contracts grant a variety of benefits to the University. First of all, it's the opportunity for our alma mater to increase recognition within the world educational area, to become more competitive from the side of quality and the variety of provided educational services, improve University's positions in world rankings and get to the brand new level of collaboration with foreign organizations and universities.
Moreover, joint training of bachelor, master and doctorate level IT-specialists had been discussed during the visit of Chonqing Univeristy of Technology delegation to YKSUG in November, 2016. During that visit, the delegation of CQUT and YKSUG authorities agreed on the respective contract.
As a result, the Chinese party addressed a letter of gratitude to the Rector, Andrei Korol, and the whole University, in which they admired coherence and consistency of the activities on broadening and widening of the cooperation between two higher education institutions.
Yanka Kupala State University of Grodno and Chongqing University of Technology have been involved into long-time relations, which were developing for the past five years. The official partnership of two universities had begun on February 1st, 2013, when the memorandum of understanding of cooperation in the field of student academic exchanges on a parity basis. In June, 2016 represents of CQUT visited YKSUG, and they got acquainted with the University and agreed on the widening of the fields of cooperation at that time.
In May, 2014, the delegation of YKSUG, headed by the Rector, Andrei Korol, visited Chongqing University of Technology. During the lots of meetings with CQUT authorities, they discussed issues of long-term mutually profitable cooperation, including joint training of specialists.
During five-year partnership, 13 students of YKSUG conducted studying at CQUT. At their turn, students of CQUT were given a possibility to study Russian language at YKSUG as a parity exchange. Some of them continued their education as Master students, and then as doctorate students of YKSUG.