Professor of the Gdansk university Zhanna Sladkevich has told students and teachers of the Janka Kupala State University how effectively teach Russian language as foreign language.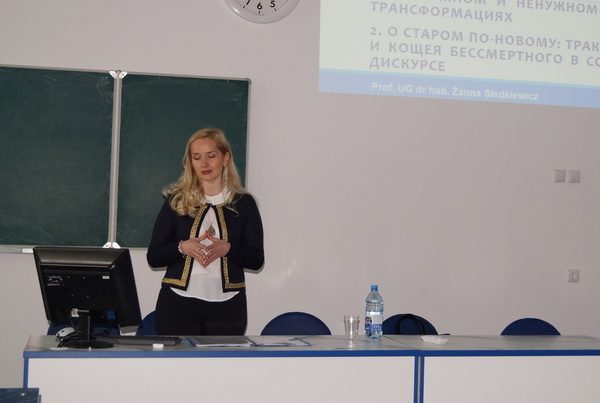 The visit of the Doctor of Philology, professor of the head of the department of pragmatics of communication and a linguodidactics of Institute of Russian philology and oriental studies of the Gdansk university Zhanna Sladkevich to the Yanka Kupala State University of Grodno took place within The Visiting Professor program.
The guest has given lectures on training in elements of nonverbal communication at lessons of a foreign language (on the example of the Russian and Polish gestures) and also on phraseological and conceptual transformations in Russian language. Also she has organized a master class "Hi, Professor: the academic electronic correspondence of students specialists in Russian philology in a standard discourse" and a scientific and methodical seminar with the international participation "How to teach Russian language?" with assistance of department of language training Belarusian and foreign citizens.
Classes of professor were attended by students of philological faculty – future experts in the field of teaching Russian language as foreign, students of faculty of pre-university preparation, teachers of Russian as foreign from YKSUG, Grodno State Medical University and teachers-trainees of the Gdansk university.