Associate Professor Anatol Bahdzevich and Leslie Gibson, a guest teacher from the Fulbright English Teaching Assistant (ETA) Program, present an example of co-teaching methods in the English Philology Chair at Yanka Kupala State University of Grodno.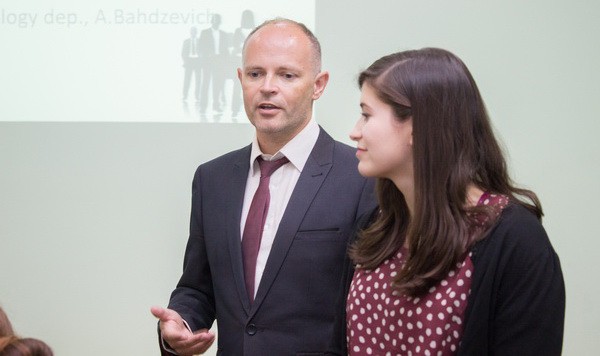 Co-teaching is an educational approach that involves two teachers working collaboratively to plan, structure, and implement lessons. The technique of co-teaching in higher education aims to establish an interdisciplinary approach in which both teachers and students have an opportunity to formulate and solve different problems in a new interactive format. This problem-solving is based on knowledge of different specialized fields and will enrich the lessons with practice-oriented content. A co-taught lesson aims to involve teachers and students as collaborators and the latter have the opportunity to practice and develop different professional and personal skills.
"Co-teaching broadens the scope of interaction between the lecturers and the students within a lesson, especially those who are mastering a foreign language," commented Anatol Bahdzevich. "Within this kind of lesson the instructors demonstrate the culture of professional communication and involve students in discussions while providing them with opportunities to ask questions, present their points of view, form their own attitude towards the topic, and express their emotional engagement in the educational activities."
Leslie Gibson considers co-teaching a way to transform traditional lessons into "exciting, productive, and interactive activities. The main goal of co-teaching is to provoke students' cognitive processes but also to get them to practice their speaking."
Co-taught lessons encourage students to form not only professional linguistic skills, but provide a real possibility to master new forms of interpersonal communication. For others, it may be an opportunity to try their hand in public speeches or a chance to practice different ways of critical thinking.
Master's students who take part in the co-taught lessons believe that they have not only gained the ability to practice communication with a native speaker, but that they also have the chance to be fully immersed in the subject with the expertise of two instructors each providing his or her own concept of the material.