In the Yanka Kupala State University of Grodno students met with Lilia Kiryak, a deputy of the House of Representatives of the National Assembly of Belarus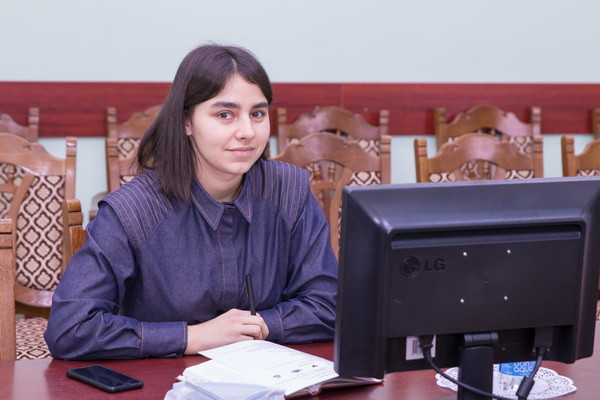 Students of Yanka Kupala State University of Grodno learned about the changes to be made to the updated Education Code and were invited to attend one of the spring parliamentary sessions.
Lilya Kiryak is the Deputy Chairman of the Permanent Commission on Education, Culture and Science of the House of Representatives of the National Assembly of Belarus. Welcoming the students of the University, she noted that it was very important for her to have a frank discussion on relevant topics with representatives of her home university.
– I look forward to an honest conversation and I'm ready to answer any questions or suggestions you may have, said Lilia Kiryak. - There are future teachers among you, so I am sure you will be interested to learn about some of the innovations of the draft new Code on Education of the Republic of Belarus.
According to the deputy, the draft of the new Code envisages the amendment of those articles that define the rights and obligations of participants in the educational process. Lilia Kiryak also drew attention to innovations in the bill related to social support for graduates of higher education institutions. In particular, young professionals and associated preferences now will be available to university graduates who have paid for higher education. The target enrolment in institutions of higher education will be expanded in order to ensure a personnel contract, and the restrictions for target areas will be removed on the basis of area. A further innovation is the adoption of the new Education Code, distance education as an independent form of education would be legislated, noted Lilia Kiryak.
During the meeting, the participants asked whether the status of Master would be enshrined in legislation. The Member of the House of Representatives replied that work was under way and that the status of the Master would subsequently be specified in a by-law. In addition, students were interested in the distribution of graduates, asked about the creation of conditions for the self-realization of young people in the chosen profession, discussed ideas on how to support young and talented children to stay in the study and work in the home country. They also spoke about various youth initiatives, volunteer activities and the importance of civic and patriotic education in the educational institutions of Belarus.
The students were particularly interested in the proposal Lilia Kiryak to participate in the parliamentary session. – We start on 4 April, and I invite you to attend one of the sessions. There are now serious legislative acts on the agenda, which are actively discussed by deputies. There are always many disputes, interesting proposals. See how the process of adoption of laws is going, - requested Lilia Kiryak.
In concluding the dialogue with the students of the Yanka Kupala State University of Grodno, Lilia Kiryak, a deputy of the Representatives House of the Belarus National Assembly, wished everyone good health, successful life and career