Students of Yanka Kupala State University of Grodno won an international environmental competition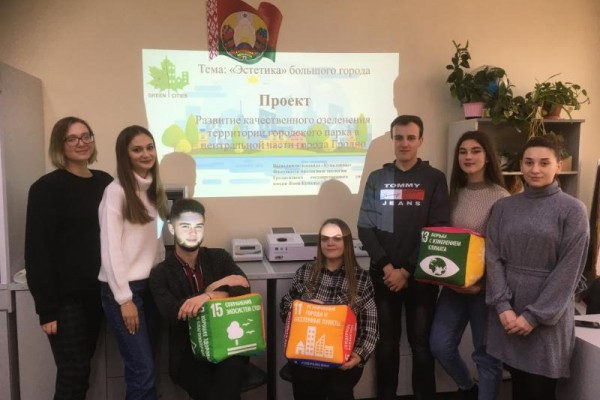 On November 9-10 the Novosibirsk State University of Economics and Management hosted the IX Ecological Cup in an online format. The competition is designed to draw attention to environmental issues and organize active discussion of environmental problems in the student, expert and public environment.
Among the participants of the Ecocup were representatives of Russian higher education institutions, the team of the International University of Innovative Technologies from the Kyrgyz Republic, as well as the Interstate Educational Institution "Belarusian-Russian University" and two teams of Yanka Kupala State University of Grodno - the Faculty of Biology and Ecology and the Faculty of Engineering and Construction. According to the results of the Cup the team of Biology and Ecology Department "Kupalovtsy" was recognized the best of 13 participating teams.
On the first day of the Interuniversity Environmental Cup the teams presented to the jury projects in the format of homework. The students of the Faculty of Biology and Ecology of YKSUG prepared a project titled "Development of quality landscaping of the territory of the city park in the central part of Grodno. When evaluating the projects, the main criteria were the relevance and significance of the development, the quality of the project elaboration and effectiveness of economic costs. Kupalovtsy's project was highly appreciated by the jury of the competition for its scientific component, economic justification and specific measures for its implementation.
On the second day of the competition the participants of the teams had an intellectual game "Ecology" in the format of an individual Internet-testing on the Moodle platform. All team members had to answer 30 questions in 40 minutes. And also before the start of the main eco-cup tests it was necessary to hold a local environmental action "Ecobattle" and create a video on "Comfortable Urban Environment".
In its composition Team "Kupalovtsy" were undergraduate and students of the Faculty of Biology and Ecology of our university - Yaroslava Sapach, Elizaveta Bogdanova, Julia Yushkevich, Alena Amshey, Nikita Brjuko, Anna Dobrinets and Vadim Gunko. Team leader - senior lecturer of the Department of Ecology Elena Samusik.
International Interuniversity Environmental Cup-2021 was organized with the support of the Environmental Protection Committee of Department of Energy, Housing and Utilities of Novosibirsk, Ministry of Natural Resources and Environment of Novosibirsk region, FSBI "Center of Laboratory Analysis and Technical Measurements in SFR", Novosibirsk Regional Association of Waste Management "Ecology of Siberia", LLC "Guide".