Round dances, paper snowballs, poems in Spanish and Polish: foreign students took part in an event dedicated to New Year's traditions in Belarus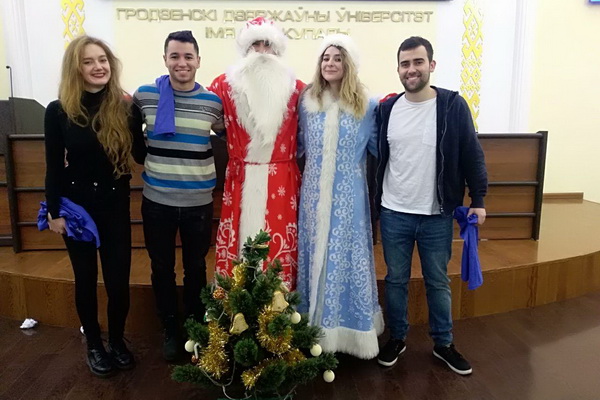 Foreign citizens study at the Faculty of Philology and the Faculty of Mathematics and Computer Science as part of the Erasmus + program.
The event was organized for foreign guests who visited Yanka Kupala State University of Grodno within the Erasmus + exchange programme. The event allowed students from Poland and Spain to get acquainted with the culture and traditions of our country. So, the organizers told foreign guests about the features of the winter holidays in Belarus and how is customary to celebrate New Year and Christmas. An amazing fact for them was the celebration of the Old New Year in Belarus, and the history of this holiday. Foreign students were glad to see Ded Moroz and Snegurochka, noting that there were no such New Year characters in their countries. Throughout the evening, the guys showed their talents - they danced, read poems and sang songs in their native languages. They were impressed by paper snowballs and round dances to New Year's tunes. At the end of the event, guests received souvenirs and sweets.