IV Regional Olympiad in Russian as a Foreign Language is held at Yanka Kupala State University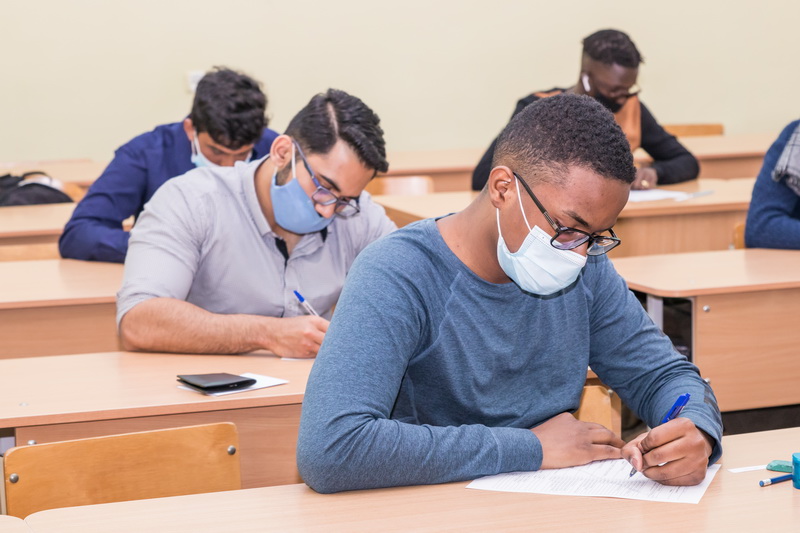 15 students and students of preparatory courses of universities and colleges of the Grodno region take part in the Olympiad.
These are citizens of eight countries - Brazil, Congo, Ethiopia, Lebanon, Mali, Togo, Cameroon, Sri Lanka - who are only studying Russian in their first year of school. Participation in the Olympiad is a great opportunity to check what real success they managed to achieve during the first year of study.
– The Olympiad in Russian as a foreign language is held by the Department of Language Training of Belarusian and Foreign Citizens of Kupala University for the fourth time. This is a regional Olympiad, which is attended by students and students of all educational institutions of the Grodno region. And the jury that will determine the winners and prize – winners of the Olympiad will include representatives of all three Grodno universities, – said Inna Samoilova, Head of the Department of Language Training of Belarusian and Foreign Citizens of the Faculty of Pre-University Training of Yanka Kupala State University.
She also noted that such intellectual competitions help motivate foreign students to further study the Russian language and culture. This is important because knowing the language afterwards helps them to adapt more quickly to the student environment.
– Foreign students and students really strive to learn the Russian language, even if they study at the university in English, - said Inna Samoilova. – After all, they live in our country, are mainly in the Russian-speaking environment. It is important for them to interact with other students, build relationships, and understand each other.
Participants of the Olympiad will have to pass three stages of tests. They will have to demonstrate an understanding of authentic oral speech, perform a lexico-grammatical test and make an oral statement on one of the proposed topics before the jury. For example, they will be asked to talk about choosing their own path and the importance of knowledge, about love and the value of health, about mistakes, life's victories and defeats. It is important to note that the participants of the Olympiad will learn their topic for oral statements immediately before the speech.
According to the results of the Olympiad, the winners and prize-winners will be determined. They will be awarded certificates and gifts-souvenirs and books that will help them learn more about Belarus, its traditions, and also contribute to further improving their knowledge of the Russian language.